Hard Drive Destruction & Disposal | East Bay Area: Hayward, Oakland, Fremont, CA
Computer Hard Drive and Media Shredding for The East Bay Metro and Surrounding Areas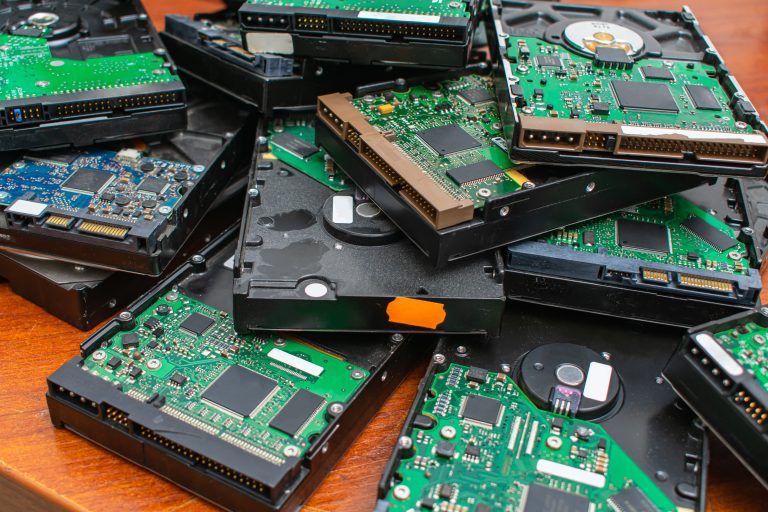 Are you looking to destroy all the old hard drives left over from your company's latest PC refresh? Or maybe you have hard drives collecting dust because you are unsure how to remove the data securely. We can help. Our hard drive shredding services are second to none and will leave you confident that your data has been destroyed. 
What is hard drive shredding?
Hard drive shredding is the physical destruction method of old and unwanted hard drives. This process reduces the hard drive into small pieces, making it impossible to recover the data stored on it and rendering the drive inoperable. Shredding is typically done using specialized equipment and is often considered a more secure destruction method than other methods, such as degaussing or wiping.
What are the benefits of shredding your hard drives at our company?
When you choose Jessica's Shredding, you can be certain your information will never fall into the wrong hands or be compromised. 
We also allow you to watch while your hard drives are destroyed for added peace of mind if you drop them off at our Hayward office. If you are constantly replacing hard drives, we offer convenient containers you can keep at your location to fill up. When the container is full, call us, and we will swap it out for a new one and destroy the hard drives we receive from you. We offer certificates guaranteeing that no information is retrievable from the hard drive remains. 
What is our hard drive shredding process?
We want to make the process easy while providing confidence in our services. Here is an example of how we shred the hard drives:
Collection and Inventory:

 Hard drives are collected and inventoried for documentation purposes. 

Data Erasure:

 The hard drives are erased via degaussing before shredding to remove all stored data. 

Physical Destruction:

 The hard drives are physically destroyed using specialized shredding equipment, which breaks the hard drive into small pieces. 

Disposal:

 The shredded pieces are then disposed of in an environmentally responsible manner.

 
What is the difference between hard drive shredding & degaussing?

Hard drive shredding and degaussing are two different methods of destroying data stored on hard drives.
Hard drive shredding physically destroys the hard drive by breaking it down into small pieces using special equipment. 

On the other hand, Degaussing is a magnetic method that erases data via a strong magnetic field. This scrambles the magnetic domains on the hard drive platter, rendering the stored data unreadable. However, degaussing does not physically destroy the hard drive.
While both methods can effectively eliminate the data, hard drive shredding provides a higher level of security, as it physically destroys the hard drive, making it impossible for anyone to recover the stored data. On the other hand, Degaussing may not completely erase all data and could leave traces of data that could be recovered.
If you are in the greater East Bay Area, including Hayward, San Leandro, Fremont, Oakland, and San Ramon, contact us today to learn how we can shred your hard drives, documents, and other sensitive information. Call us or request a free quote via our online form. 
Hard Drive Shredding & Destruction: Have your drives and media destroyed by our experienced staff at your own building or facility while you watch.  This is the only way to ensure your files are safe even if deleted, wiped or magnetized.  Don't risk your  data being compromised.   
Other items for shredding include:
* Floppy Drives
* Back-up Tapes
* CD's and DVD's
* Sensitive e-Media Waste
We offer flexible programs to handle your shredding needs:
On-Call Basis: You call us to let us know your containers are almost full so we can schedule a pick up

Regular Service: After a trial period a regular date is set up for the pickups eliminating you having to call in each time.

Drop Off At Our Location: Delivered to our facility in Hayward
One-Time Service/Pickup: Let us know what kind of material you have to be shredded and we arrange to securely shred it at your location
Serving the East Bay Area: Hayward, Oakland, Fremont, San Leandro, San Ramon, CA