Shredding Services for Businesses | East Bay Area: Hayward, Oakland, Fremont, CA
Flexible service to meet the needs of our business community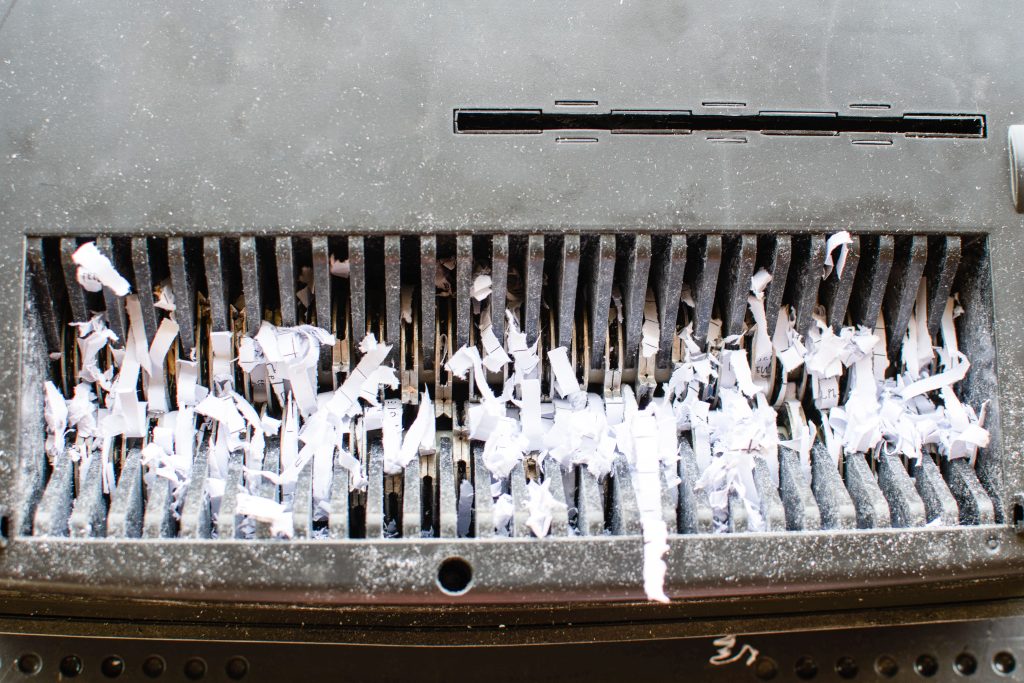 Welcome to Jessica's Shredding Team, your local experts in document destruction. In a world where sensitive data protection is paramount, we deliver dependable, secure, eco-friendly shredding solutions tailored to your business needs. Let's safeguard your valuable information and help maintain your privacy. Rest easy knowing that with us, you're not just another client but our neighbor. Experience a service that's professional, local, and personalized. 
Jessica's Shredding Team specialize in the destruction of confidential documents, confidential files, media and computer hard drive destruction. Our facility is fully insured with liability insurance and has passed inspections by various agencies in which we serve (Federal, State, County, Hospitals, Banks, Law Offices, Non Profits etc) 
We make it easy and will help you setup a shredding program that meets your company's specific needs. 
Choose from either scheduled or time time service options.
FREE lockable bins or consoles to hold your sensitive documents. 
On-Site Shredding in our high-volume document shredding truck or drop-off options.
We shred both paper files and computer media and hard drives. 
Recycling of all shredded documents. 
Certificate of Destruction provided for each job to insure the security of your information. 
Flexible service options available:
On-Call Basis:

 You call us to let us know your containers are almost full so we can schedule a pick up 

Regular Service: 

After a trial period a regular date is set up for the pickups eliminating you having to call in each time.

Drop Off At Our Location:

 Delivered to our facility in Hayward

One-Time Service/Pickup: 

Let us know what kind of material you have to be shredded and we arrange to securely shred it at your location
Unlike other Shredding Companies, we offer lockable containers
FREE OF CHARGE. 
96 Gal Lockable Cart – 35.0 L x 27.0 W x 47.5 H
65 Gal Lockable Cart – 28.0 L x 28.0 L x 41 H
Grey Security Console – 20.0 L x 20.0 W x 36.0 H
Why do businesses need shredding services?
Businesses handle sensitive information daily, from customer details and financial records to strategic documents. Shredding services are essential for properly disposing of such data, ensuring privacy and compliance with data protection laws. It helps prevent data breaches and identity theft, which can lead to severe legal and financial repercussions.
Moreover, shredding services save time and resources while maintaining an eco-friendly approach to waste management. They enable companies to safeguard their reputation, foster customer trust, and focus on their core operations, knowing their confidential data is securely disposed of. Jessica's Shredding Team is here to provide this crucial security layer.
What types of documents should businesses shred?
Businesses should shred documents containing sensitive information to ensure privacy and compliance with legal regulations. These include customer records (names, addresses, social security numbers), employee files (salary details, performance reviews, medical records), financial data (bank account, credit card information), and operational documents (contracts, business plans, internal memos).
Old invoices, receipts, and tax records also need secure disposal. Even seemingly innocuous items like old calendars or meeting notes can reveal important details about a business. In a nutshell, if a document contains information you wouldn't want in the hands of competitors or criminals, it should be shredded.
Can businesses watch the shredding process?
Absolutely; at Jessica's Shredding Team, we understand the importance of trust and transparency in handling sensitive data. We offer on-site shredding services where our state-of-the-art mobile shredding trucks come to your location, allowing you to witness the process in person. This ensures the immediate destruction of documents, providing an extra layer of security and peace of mind.
For off-site shredding, we maintain a strict chain of custody protocols and can provide a certificate of destruction to validate the secure disposal of your documents. With us, you can be confident that your confidential information is treated with the utmost care and integrity.
How often should businesses schedule shredding services?
The frequency of shredding services depends on the volume of sensitive documents a business generates and its industry requirements. Small businesses may find monthly or quarterly shredding sufficient, while larger companies or those in heavily-regulated industries like healthcare or finance may need weekly or even daily services. Seasonal businesses might schedule more frequent shredding during peak times. It's essential to not let sensitive documents accumulate, creating a potential security risk. At Jessica's Shredding Team, we offer flexible scheduling options to meet your unique needs, ensuring your confidential information is disposed of securely and timely, keeping your business compliant and safe.
Serving the East Bay Area: Hayward, Oakland, Fremont, San Leandro, San Ramon, CA